Michael T. Thompson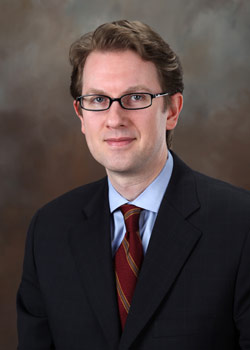 Practice Areas
Estate Planning
Taxation
Estate Administration
Elder Law
Disability Law
In 2021, Michael T. Thompson joined the Estate, Trust, & Taxation Group at Coughlin, Midlige & Garland, LLP. Michael's practice focuses in the areas of estate and tax planning, estate administration, disability planning and elder law.
Michael is admitted to practice law in New Jersey and New York and before the United States Tax Court.
Prior to joining Coughlin, Midlige & Garland, LLP, Michael was a shareholder in Cestone & Thompson, P.C. Prior to forming Cestone & Thompson, P.C., Michael was associated with the Tax, Trusts and Estates Practice Group at Coughlin Duffy LLP from 2008 to 2010. Previously, Michael was associated with the law firm of Danna & Associates, P.C. from 1998 to 2008 and served as the Managing Attorney for that firm's New Jersey office from 2001 to 2006.
Michael received his undergraduate degree in Political Science from Rutgers College, his law degree from Rutgers University Law School – Camden and his LL.M. (Taxation) from New York University Law School. He is a member of the New Jersey State Bar Association (Elder Law and Real Property, Probate and Trust Law Sections), the New York State Bar Association and the National Academy of Elder Law Attorneys. Michael is a past member of the Advisory Council for Dress for Success Morris County. Michael is a frequent lecturer to legal, business and community groups. In September of 2016, Michael was appointed to a four-year term serving on the Supreme Court of New Jersey, Office of Attorney Ethics, District VB Ethics Committee. In 2020, Michael was reappointed to a four-year term on the District XB Ethics Committee.
In 2021, Michael was named President of the Rotary Club of the Mendhams. The Rotary Club of the Mendhams is chartered through Rotary International, a global leadership organization with more than 1.2 million members. They live up to the Rotary's motto of "Service Above Self" by volunteering at local events; supporting both local and international charities; and fund-raising to award college scholarships to graduating seniors from West Morris Mendham High School and Gill St. Bernard's School.
Recent Speaking Engagements
Basic Estate Administration, New Jersey Institute for Continuing Legal Education, February 15, 2020
"Key Intestacy Laws You Must Know" and "Handling Debts and Claims Against the Estate," Estate Administration Boot Camp, National Business Institute, December 13, 2018
"Grantor Trusts" and "Estate Planning For The Disabled," Trusts Made Simple, National Business Institute, December 15, 2017
"Crisis Planning and Assistance" and "Special Needs Trusts," Protecting Assets While Qualifying for Medicaid, National Business Institute, December 12, 2016
"Tax Considerations" and "Preserving Family Assets When Qualifying For Medicaid," Elder Law and Medicaid Planning: Everything You Need to Know, National Business Institute, December 14, 2015
"An Overview of Trusts" and "Grantor Trusts", Trusts 101, National Business Institute, April 20, 2015
"Special Needs Trusts," Protecting Assets While Qualifying for Medicaid, National Business Institute, December 12, 2014
"Irrevocable Life Insurance Trusts," The Complete Trust Course, Foxmoor Continuing Education, July 31, 2014
"Overcoming Liabilities Challenges and Managing Distributions," Oddities and Challenges in Probate Law, National Business Institute, June 11, 2013
Basic Estate Planning, New Jersey Institute for Continuing Legal Education, June 5, 2013
"Crisis Planning and Assistance," Protecting Assets While Qualifying for Medicaid, National Business Institute, March 21, 2013
"Planning For Disabled Beneficiaries," Estate Planning for Special Situations, New Jersey Institute for Continuing Legal Education, January 25, 2013
"Grantor Trusts," Trusts 101, National Business Institute, November 16, 2012
"Estate Planning Matters: Key Issues in Estate Planning for Non-Estate Planners," New Jersey Law Journal's In-House Counsel CLE, March 22, 2011
"Estate Planning in Uncertain Times," Financial Planning Association of New Jersey, February 18, 2009
Contact Information
mthompson@cmg.law
https://www.linkedin.com/in/michaeltthompsonesq/